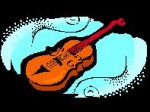 If you want to introduce your preschoolers (best for ages 2-6 years) to some great classical music in a fun and entertaining environment then head to Linton's Peanut Butter & Jam Sessions.  These musical concerts are held throughout Greater Cincinnati and they are both family-friendly and cost-friendly.  It's only $4/ticket or you can buy a flex-pack ticket book for $12 and that gets you into four concerts.  At every concert they have cookies for the little ones graciously donated by Graeter's. They have two concert times, 10am & 11:30am, for each PB&J session scheduled.  For a complete listing of the upcoming concerts, click here. 
To round out the remainder of their Fall season, they will be having:
"Dancing Day – Kick up your heels and join us for the music of Bach and Vivaldi, as well as traditional Irish Jigs! Dance along with the cello, piano, flute, and Irish Penny-Whistle!" – from Linton's website. 
November 7, 2009

- Good Shepherd Lutheran Church – 7701 Kenwood Road, Cincinnati, OH 45236

November 14, 2009

– Kennedy Heights Presbyterian Church- 6312 Kennedy Avenue, Cincinnati, OH 45213
Their Winter season starts in January and they'll be featuring "Hit It" which is an interactive percussion extravaganza.  Enjoy the beats of North America, South America, Africa and Asia.  In the Spring, they'll be highlighting the MadCap Puppets in their shows.  Watch these larger than life puppets get in sync with some chamber music.  Please call (513) 381-6868 for ticket information.