When I was teaching in the Covington Independent Schools I always loved our monthly visit from the Read Racer from the Kenton County Library.  Ms. Jeanne and Mr. Mike would patiently help my students find that perfect book to borrow and read at home.  The kids thought it was wonderful to have the library visit them at school, and I thought it was wonderful to give the children access to so many books!  Each summer for the past 7 years the library has held a 5K run & walk to support this service to the community.  It is coming up in just a few weeks, so if your family is looking for a great way to stay fit and give back to the community at the same time then you should check this out!
Here are all the details from the Kenton County Library:
Kenton County Public Library Prepares for Seventh Annual 5K Run & Walk
New this year: Corporate Challenge
The Kenton County Public Library Foundation's seventh annual Racing to Read 5k Run & Walk, presented by U.S. Bank, will take place Saturday, June 12. This year's race is expected to attract over 1,100 people to downtown Covington. More than 900 people are estimated to participate in the race while others will cheer the participants on and volunteer at the event.
New this year is a Corporate Challenge. Businesses are encouraged to enter teams of four – the top three will be scored. The first place team will receive 20 tickets to Kentucky Speedway's Indy 300 on Saturday, September 4. The second place team receives eight Red's tickets.
The Stroller division will return this year. The first place walker and first place runner in the stroller division will win a three-month family membership to Better Bodies or Silverlake the Family Place and a KCPL backpack.
For the second year in a row, the first place male and first place female runners will each receive a $250 Visa gift card from U.S. Bank in addition to the six-month membership to Better Bodies or Silverlake Recreation Center.
First place male and female walkers will receive a six-month membership to Better Bodies or Silverlake, a $50 gift certificate to Bob Roncker's Running Spot and a $25 gift card. Several other prizes will be awarded for age categories, family teams and more.
The race benefits the Library's Racing to Read program, an early childhood literacy initiative designed to introduce books and the love of reading to children in local preschools, day cares and Head Start centers.  Library staff travel throughout Kenton County in the Read Racer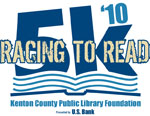 , a NASCAR-inspired RV outfitted with shelves of books.  Children climb aboard to select and check out books during the Read Racer's monthly visits to centers.  The Library is purchasing a new Read Racer and expects it to arrive in late July.
The race will start at the Mary Ann Mongan Branch of the Kenton County Public Library, 502 Scott Boulevard, Covington, at 9 a.m. The race offers great awards, a free pancake breakfast from First Watch for participants, a Kids' Fun Run, family-friendly activities and an appearance by the Library's friendly mascot, Booker.
Pre-registration cost is $20 per person or $75 for a family team of four members. The Corporate Challenge cost $250 per team. Pre-registration can be done at www.kentonlibrary.org/race or by picking up a registration form at the Kenton County Public Library. Registration includes a performance running T-shirt, while supplies last.  Race-day registration begins at 7:30 a.m. and costs $25 for individuals or $85 for family teams.
People who want to contribute to early childhood literacy but can't participate in the Run & Walk can volunteer. Volunteers are needed on the race course, to distribute water, cheer on the participants and more. Contact 962-4060, ext. 4209 for more information.
Visit www.kentonlibrary.org/race for more information, to register or get directions.
The Kenton County Public Library has three locations – Covington, Erlanger and Durr in Independence. The library is consistently one of the top ranked public libraries in the state of Kentucky and served more than 1.1 million visitors last year. The library also provides more than 4,000 free educational, informational and recreational programs and training classes annually. Learn more at www.kentonlibrary.org. The Kenton County Public Library was ranked #1 in the state of Kentucky according to the HAPLR Index for the last three years in a row.