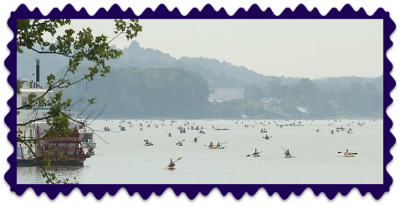 This year marks the 11th anniversary of one of the coolest events in our area (in my humble opinion).  Paddlefest will be rocking the riverbanks next weekend, June 21-23 at Coney Island and Sawyer Point.  I am feeling so bummed because I might not be able to attend any of the events this year, so I'm making sure I spread the word so everyone else knows about this cool event, and hopefully you can make it to one of the man
y fun things they have planned for the weekend.  And please don't stop reading this now if you aren't into paddling!  Paddlefest will entertain the whole family, no matter what your interests are.  Yes, the main event is indeed for those who love to paddle, but they will also have kids activities, live bands, vendors, and much more!  Last year we went to hear the music at Coney Island (so much fun!) and then Michael and I paddled with Ella in our canoe for the 8.2 mile trip (along with about 2,000 other paddlers).  It was quite an adventure!  This year Michael & my Dad are making the trek, and they always see friends along their way down the Ohio River.
Online registration for the canoe ride is now closed, but you can register for Paddlefest on Friday until 9pm and on Saturday from 6:30am – 8:30am at Coney Island.
"Paddlefest has become a floating pep rally for the Ohio River," said Brewster Rhoads, Paddlefest chair. "It's a wonderful way for people of all ages and skill levels to celebrate, promote and protect our region's most important natural resource."
All About Paddlefest ::
Highlights:
The Buckeye State, a working towboat docked on the banks of the Ohio River at Coney Island on Thursday, June 21 at the Kids Outdoor Adventure Expo, will be available for free tours by children and adults. 
Over 5,000 children are currently registered to attend this year's Kids Outdoor Adventure Expo on Thursday, June 21 at Coney Island, a new record.
Dragon boat racing will make its debut at Paddlefest this year on Friday, June 22 at Coney Island (5-8 pm on Lake Como).
Stand Up Paddleboard racingwill also debut on Saturday, June 23 with a 5 mile race from Coney Island to Schmidt Field on the Ohio.
CincyPedalfest will hold its inaugural ride from Sawyer Point to Armleder Park and back (19.5 miles) to promote awareness of the Ohio River Trail.
Schedule of events:
Thursday, June 21 – The Kids Outdoor Adventure Expo, presented by the Hamilton County Park District, at Coney Island from 9:30 am till 4:30 pm.  Free and open to the public.   The largest water safety and environmental education event for children in the Midwest.  Children learn how to catch a fish, properly wear a life jacket, paddle a raft, make cardboard boats, tickle a goat, identify the fish and wildlife of the Ohio, prevent water pollution, climb a climbing wall, grow vegetables, generate renewable energy, take a nature hike and encourage their parents and siblings to recycle, save energy, pick up litter and enjoy the natural world in their own backyard.  Adults and children alike will be able to tour the Buckeye State, a working tow boat on the Ohio sponsored by RiverWorks Discovery.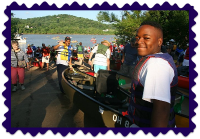 Friday, June 22 – The Ohio River Music & Outdoor Festival at Coney Island from 9 am till 11:30 pm.  Live bands on the WNKU stage, canoe and kayak lessons, Dragon Boat races, kayak fishing tournament, cardboard boat races, used canoe and kayak sale, boat demos, silent auction and outdoor gear market and vendor fair.  Free admission and parking.
Saturday, June 23 – 11th Annual Paddle the Ohio & Finish Line Festival.   With the Ohio closed to barge and powerboat traffic, canoers and kayakers paddle 8.2 miles from Coney Island to the Cincinnati Public Landing.  Paddlers depart Coney Island starting at 7:15 am with the last boat leaving at 9:00 am.  Gold Star Finish Line Festival at Yeatman's Cove runs from 10:30 am till 2:30 pm with live music, exhibitors, food and refreshments.  Registration required to paddle.  Free admission to Finish Line Festival.
Also on Saturday, June 23, Cincy Peddlefest will take place starting at 7:30 am at Sawyer Point.  Cyclists will ride out to Armleder Park and back (19.5 miles round trip) where they will join up with paddlers at the Finish Line Festival.  Cincy Peddlefest is sponsored by Miami Group Sierra Club, Queen City Bikes and Ohio River Way.  Registration fee required to participate.
Registration info and schedules for Paddlefest are available at http://www.ohioriverway.org/paddlefest/
Registration info Cincy Pedalfest is available at http://cincypedalfest.org/2012/
**I received all of the above information from the good folks at Paddlefest, for more details please see their website: http://www.ohioriverway.org/paddlefest/