Ready for the weekend?  We have loads of great activities for you and your family this weekend!  And, even a couple of great date night options.  Check it out!  Make sure you read details on each activities website.
Friday
Come see The Horse Guy at the Fitton Center for Creative Arts in Hamilton, Ohio at 7:30pm.  Glenn Singer, The Horse Guy, specializes in visual comedy using hilarious optical illusions, a dry delivery, and a warm conversational style.  Fitton Family Fridays feature entertainment geared to kids of all ages, from preschoolers to teenagers – including parents and grandparents who are still kids at heart.  To order your tickets, call 513-863-8873 ext.110 or visit www.fittoncenter.org. The Fitton Center for Creative Arts is located at 101 S. Monument Avenue in downtown Hamilton, Ohio
Saturday
Compost Kids Family Class at the Civic Garden Center in Cincinnati Ohio will teach you about 'decomposers' and composting.  Class times are 9:00am-10:30am, 11:30am-1:00pm, 2:00pm-3:30pm and registration is required.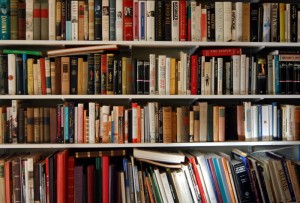 Come to the Durr Branch of the Kenton County library from 1:30pm-2:30 p.m. on Saturday for the Second Saturday Book Club discussion of "Frindle" by Andrew Clements.  This is for grades 3-6.
What do animals do when they get cold?  Join naturalists for "Animals and the Chilly Seasons" and learn more at Sharon Woods Centre in Sharon Woods 2:00pm-3:00pm.  This is a free event.
The wacky florist needs help fulfilling all of the orders for Thanksgiving table flowers!  Join the Happen Session Flower Power at Happen Inc.  11:00am – 11:45am .
Don't miss Customer Appreciaton Day at  Hidden Valley Fruit Farm at 11:00am.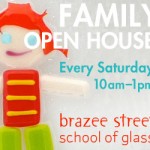 Celebrate the holidays by making ornaments with your family at Brazee Street Studio. Bring your parents, grandparents, siblings, and children to this introductory class Saturday 10:00am to 1:00pm (Open House style) and create fused glass ornaments for each other or someone you love. Open to all ages (we suggest 4+), kids young and old! Ornaments fired and ready in time for the holidays. No experience necessary. $15/ornament
W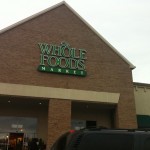 hole Foods Market Cincinnati hosts Kids Can Cook Too! every Saturday at 10:00am. It's a fun free cooking class and a great way to get kids involved in the kitchen.
At 10:30 am John Morris Russell (a.k.a. Old MacMaestro) and the Cincinnati Pops are kicking up some barnyard fun with music celebrating fuzzy, furry and feathered friends around the farm in the Cincinnati Pops Orchestra Lollipops Family Concerts: Barnyard Serenade at Cincinnati Music Hall. Come at 9:30 am before the concert for an "instrument petting zoo," crafts and games in the pre-concert Kids' Zone.
Do you love games?  Don't miss National Gaming Day at the Public Library of Cincinnati and Hamilton County.  Games include video games, Wii tournaments, card games, and board games!  Contact your local branch for more specific information on National Gaming Day events and which branches will have what types of games.
Free performance of
Madcap Puppets Rumpelstiltskin
at 12:30pm in the Middletown Arts Center.  Puppet Making Workshop directly following performance for ages 6 & up. $3 Per Child.  Call Today to Register 513-424-2417.
Sunday
The 6th Annual Veterans Day Veterans Day Observance 2:00pm-3:00pm (Veterans please arrive between 1:00 P.M. – 1:30 P.M.) at Highland Cemetery in Fort Mitchell, Kentucky.  All  veterans from WW 11 to Iraq will be honored.  This year we will be highlighting;Veterans from Desert Storm, Afghanistan and Iraq.
The Legend of Sleepy Hollow, Washington Irving's spooky Halloween classic, is presented with all the thrills, chills and laughs that keep young audiences on the edge of their seats. The storybook tale revolves around the famous characters–the bumbling, awkward school teacher, Ichabod Crane, the coquettish Katrina and Ichabod's brutish rival, Brom Bones.  Presented by ArtReach at the Clifton Cultural Arts Center in Cincinnati Ohio from 2:00pm – 3:30 pm.  Performances are free for children under 12, $5 for adults (payable at the door), and a free reception follows the show.
Bring a mug and come to the Farbach-Werner Nature Preserve Pin Oak Trail to mix up your own hot cocoa, then hike with a naturalist to learn how nature gets ready for winter.  Times are 10:00am and 2:00pm.  The cost is $5.00, payable at the door.
Have you been trying to get the kids away from those wonderful electric gadgets? Here is a suggestion—simple toys that require skill and a sense of adventure will be featured duringan afternoon of low tech fun with "Pioneer Toys" at 2:00pm at Winton Woods Winton Centre. Make a toy or two for a nominal fee.
Prince of Peace Montessori Open House Sunday 1:00pm until 2:30pm.  Join us for our fall open house for students in grades pre-primary – third. We invite you to come learn more about Prince of Peace Montessori and to meet members of the school staff, teachers and parents.
All Weekend
Date Night (grown ups only): "Our Town" Written by Thornton Wilder and directed by Jay Woffington.  The story follows the citizens of Grover's Corners, New Hampshire in the early 1900′s though their daily life, their triumphs and their sorrows, their casual conversations and their formal traditions. But through this simple story about small town life in times past, Our Town tackles universal themes of humanity relevant to every generation in every town. For tickets call (859) 652-3849 or visit www.footlighters.org. 802 York Street Newport, KY.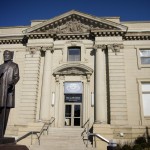 Date Night (grownups only..)- Head to The Carnegie for a chilling psychological thriller – UNDER A RED MOON - Friday at 7:3opm, Saturday at 7:30pm and Sunday at 3:00 pm.  Tickets are $16-$23.
Visit Heritage Village Museum for the Paint Out Art Show, that starts this weekend! The event starts Friday night with a preview party from 7:00pm-9:00pm, then runs this weekend November 10th 10:00am-4:00pm, and November 11th 1:00pm-4:00pm.  The paintings are beautiful and some are for sale so you can own your own piece of Historic Heritage Village!
Holiday Junction is back at the Cincinnati Museum Center.  You'll be in the holiday spirit as soon as you walk in the door as you're surrounded by families of all types, beautiful holiday decor, a super-sized tree, seasonal music and the magic of the tristate's most historic train station, with a full slate of activities sure to thrill railroad enthusiasts of all ages.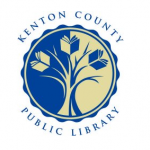 Want something to do at home?  Until December 3rd, you may drop off letters to Santa at all locations of the Kenton County library.  No postage to the North Pole is necessary!  Just put your letter in one of the special mailboxes at any library location.  Please be sure to give Santa full names and complete home addresses so that each child will receive his or her letter at home.  Don't forget to bring a non-perishable food or personal care item for Senior Services of Northern Kentucky when mailing your letter.
Monday (Veterans Day)
Enjoy a catered breakfast with the US Army Color Guard and Miss Ohio 2012 Elissa McCracken.  Meet Marian Olivas, mother of a local fallen hero. The event will be held at Thompson headquarters, 6 N. Commerce Park Dr., Cincinnati, OH 45215.  RSVP is required             (513) 981-2499 or email: veterans@333help.com.