I don't know about you, but my family's calendar for this coming weekend is completely open!  I'm glad it was my turn to put together the Weekend Fun post, because now I have a whole list of fun things to choose from for this weekend's activities!  There are so many things to do around town this weekend.  There are crafts, performances, holiday events and much much more!
Saturday
Balluminaria November 17 from 4-6pm at Eden Park's Mirror Lake – FREE!  An event like no other, come out to see numerous hot air balloons glowing in the night.  Also enjoy music, entertainment, and more.
Studio Collection Holiday Sale  Saturday, November 17th 10am – 4pm at the Harmony Lodge (636 East Epworth Ave. Cincinnati) ~ This is a great opportunity to purchase beautiful works of art for people on your holiday shopping list.  You will find a variety of art items such as jewelry, pottery, paper goods, ceramics and much more from artists including Terri Kern, Jennifer Gleason, Renee Harris, Leslie St. Clair, Lisa Inglert, Margaret Rhein, Sara Pearce, Susan Naylor, Judy Dominic, Pat Statzer, Mary Mark and Pam Korte.  Check out their  Facebook page for more details.
 Happen Inc Saturday Nov. 17 :: Create Your Own Holiday Paper Wreaths (10-10:45 & 12-5) AND Write On! Happen Session (11:00-11:45).  See their website for more details!
Book Signing :: "A Cincinnati Night Before Christmas" at Blue Manatee Books on Sat. November 17th from 10:30-11:30 AM.  FREE  A little more about this book from the Blue Manatee website:  To celebrate National Adoption Day, blue manatee welcomes Cincinnati author-illustrator duo Nadine Huffman and Marilyn Lebhar, who will discuss and sign their perennial hometown classic, A Cincinnati Night Before Christmas.  Based on a true story, a child awaits his new sibling while experiencing many of our city's holiday traditions.  100% of the book's proceeds benefit area adoption organizations.
Making Ornaments at Brazee Street Studio ~ Celebrate the holidays by making ornaments with your family at Brazee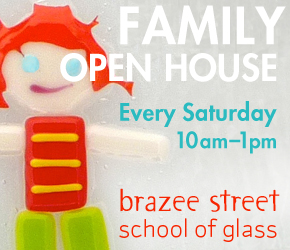 Street Studio. Bring your parents, grandparents, siblings, and children to this introductory class Saturday 10:00am to 1:00pm (Open House style) and create fused glass ornaments for each other or someone you love. Open to all ages (we suggest 4+), kids young and old! Ornaments fired and ready in time for the holidays. No experience necessary. $15/ornament
Whole Foods Market Cincinnati hosts Kids Can Cook Too! every Saturday at 10:00am. It's a fun free cooking class and a great way to get kids involved in the kitchen.
Olde West Chester Christmas Walk – Sat. Nov. 17 – 2 – 8 p.m.Visit businesses, enjoy the entertainment, enter raffles, visit the petting zoo, go caroling and see the Christmas Parade (7pm) and tree lighting!
Cincinnati Public Library: Corryville Branch ~ Make  Autumn S'mores on Saturday, Nov. 17 at 4 p.m.   Bring the whole family for this special fall activity!   Corryville Branch 2802 Vine Street. 513-369-6034.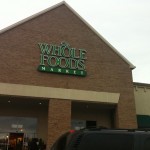 Recycling Day at Whole Foods Market ~ (Rookwood) Sat. November 17 from 10 am – 3 pm you can recycle some of that random junk you've been wanting to get rid of:  old cell phones, plastic grocery bags, used pens, computers, and much more!  It's FREE and EASY!   Go to http://www.KeepCincinnatiBeautiful.org/ for a complete list of acceptable items to recycle!
Kids+Me: Bowls at Brazee Street Studios Saturday, November 17th, 2012  1:30-3:00pm  – visit this wonderful glass studio and create a 5.5″ bowl with your child!
 Mayerson JCC — Parents Night Out presents: J Game Night!  Saturday November 17 from 7-11pm.  Sure to be a fun time for all kids (grades K-6).  Open to the public.  There will be wacky gym contests, pool races, a cook off and more!  To find out more information, prices and to register online: http://www.JointheJ.org/ParentsNightOut
Sunday
Book Signing :: Chris Payne Signs Moustronaut at the Blue Manatee on Sun. November 18th from 2:00-3:00pm.
How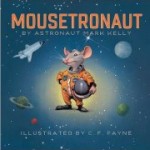 AWESOME is this?!?!  Your child could meet the acclaimed Cincinnati artist that masterminded the illustrations of Moustronaut, written by Mark Kelley.  This book sounds like a perfect holiday gift.."Mousetronaut" tells the story of a small mouse that wants nothing more than to travel to outer space. The little mouse works as hard as the bigger mice to show readiness for the mission . . . and is chosen for the flight! While in space, the astronauts are busy with their mission when disaster strikes—and only the smallest member of the crew can save the day.  FREE and open to all ages.  Please limit your books to be signed to 2 to keep waiting time pleasant.
Pie-Nati: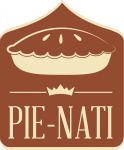 Rolling Dough to Raise Dough on November 18 at the Cincinnati Mills Mall from 1-5pm.  Sample delicious pies, purchase pies for your Thanksgiving celebrations ($10-$15)  and enter to win raffles.  This free family event is an effort to raise money for the Aubrey Rose Foundation to give back to families with critically ill children.   You can help other families while preparing for your own family dinner by purchasing a pie!  Kathrine Nero, WCPO-TV Good Morning Tri-state anchor, will emcee the event.
"KOLOBOK" – The Russian Gingerbread Boy on Sun. Nov. 18 at 2:30 & 5:30 pm at 894 Oakland Road in Loveland.  Tickets are $10 for adults, $5 for children and FREE for children under 2 years. This is a well-known and beloved Russian Folk Tale, presented in English with interesting and bright puppet characters by professionals from the PUPPETARTtheater.  After the show children can enjoy a Gingerbread Boy cookie or a Russian Kolobok and even make their own puppet!  For more details or to purchase tickets go to their website.
All Weekend
Holiday Junction Featuring the Duke Energy Holiday Trains at the Cincinnati Museum Center now through January 6.  These trains have become a beloved Cincinnati holiday tradition..don't miss out on building new family memories with this wonderful display.  Visit their site for all the information & details!
Greater Cincinnati Holiday Market November 16-18 at the Cincinnati Duke Energy Center ~ get a jump start on your holiday shopping with a wide variety of boutiques and specialty shops all in one location!  Check out their website for all the details.
Christmas At EnterTRAINment Junction ~ Open Daily Nov. 17-December 31 (except Thanksgiving and Christmas.   7379 Squire Ct., West Chester, OH 45069.  See the trains, holiday lights and decorations, meet Santa and much more!  See their website for all the details.
Date Night :: OUR TOWN performed by the Footlighters in Newport.  Written by Thornton Wilder and directed by Jay Woffington.  Show dates are November 8-18, 2012, for tickets or more information call (859) 652-3849 or visit www.footlighters.org.
Thanksgiving Crafts & Activities for Kids  in the Hamilton County Parks::
Farbach-Werner Nature Preserve Ellenwood Nature Barn November 17 & 18 10am-3pm.  FREE!  Come make a craft to celebrate Fall & Thanksgiving.
Glenwood Gardens Highfield Discovery Garden Nov. 17 & 18 10:45am  Turkeys in the Garden!  Meet a Turkey and talk about Thanksgiving customs.
Miami Whitewater Forest Visitor Center November 17 2pm.  Come meet some frogs and toads and talk about how they survive the cold winter.  And on Sunday Nov. 18 at 1pm will be Bustin' Science Myths (FREE).
Winton Woods – Sunday Nov. 18 at 2pm Come learn about Thanksgiving Animals.  FREE
Disclaimer: While we try our best to be accurate, we do recommend you check the website of the business or event prior to attending, just to be safe. Sometimes details can change after we've learned about them .