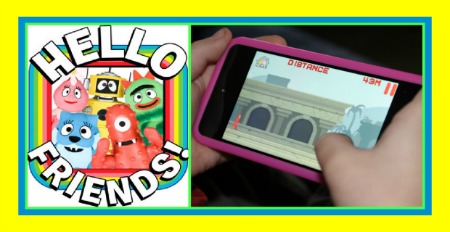 Did you know that the Yo Gabba Gabba! Live! Get the Sillies Out! Tour will be in Cincinnati on Thursday, January 10th 2013 for two shows only?  My boys are pretty giddy about this show.  You can read all about the show in this post written by Michelle H. a few weeks back (please note, the Giveaway is over, but this post still has all the details on the show).   Are you going to the show?  Are your kids big fans of Yo Gabba Gabba?  If they are I have just the cool new app for you…
In anticipation of the big event on Thursday, I was given the opportunity to review a new app that was just released by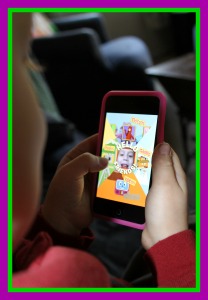 Yo Gabba Gabba! and DHX Media called Yo Gabba Gabba! Hello Friends!  Or rather, I should say my 5 year old son Sam was given the opportunity to test this app, as I could barely get my hands on it once he saw it.  The app was designed with preschoolers in mind, but my Kindergartner loved it, as did my 2nd grader.  The games are quite simple for young ones to manipulate, and there are even videos the kids can watch (oh how I loved hearing the giggles while Sam watched the videos).  They had a ball interacting with all of their friends from Yo Gabba Gabba! on this app.  And Henry's favorite part of the app is where you can dress up the different characters with hats, glasses, etc.  He got a kick out of dressing them all up.  So did Sam!  And Mama got just a little bit of quiet time to be able to get some work done around the house.  It was a win-win!
You can find the app on iTunes and Google Play, it's for the iPhone, the iPad, the iPod Touch and Google Android devices and costs just $3.99 to download.  Once you buy the app you will get additions & updates each month.
Visit: www.yogabbagabba.com
Twitter: @yogabbagabba
Facebook: http://www.facebook.com/yogabbagabba
Yo Gabba Gabba! LIVE!: Get the Sillies Out!: www.yogabbagabbalive.com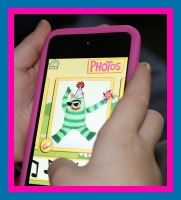 Disclaimer: In return for promoting the Yo Gabba Gabba! Get the Sillies Out! Show on Thursday at the Aronoff and also reviewing the App, I was given a sample of the app to review and also tickets to see the show.  The opinions are entirely my own though.