Looking for family fun this cold February weekend before Valentine's Day?  We have the scoop on how to stay warm and have fun!  Check out what's up this weekend.  One of the most exciting things this weekend is that it's ArtsWave Macy's Sampler Weekend!
Friday
Play chess at the Boone County library, Walton Branch, on 21 S. Main Street on Fridays in February 3:00pm-5:00 pm for "Checkmate!"  This program is for grades K-12 and parents are welcome to attend.  Snacks are provided.
Join friends from Gymboree as they make stories come alive with songs, movement, activities and parachute play at the Blue Manatee Children's Bookstore and Decafe during Gymboree Story and Play Times on Friday 10:30am – 11:00am.  This event is for children ages 1 – 3 and is $3.  Register at Blue Manatee or by calling (513) 731-2665. Space is limited. Registration required.
Saturday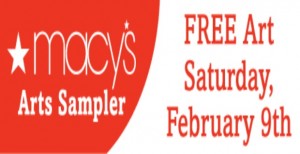 We are excited to share with you details for ArtsWave Macy's Sampler Weekends  which kick off this Saturday!   This listing in our weekly "What's Up This Weekend" post is just a small fraction of all the events happening. Learn more and get the schedule on this post.  Macy's Arts Sampler 2013 February 09, 2013 – 11:00 AM to 03:00 Macy's Arts Sampler, presented by ArtsWave, celebrates the creative things —theater, dance, museums, music, and festivals — happening in large and small ways throughout our region.  This year the Art Museum joins Playhouse in the Park to host the first Sampler day of the year with performances featuring Dramakinetics, Madcap Puppets, Lagniappe, Young Jazz Messengers, and Ron Esposito, as well as gallery talks, art making, and more!
PS. Dont forget, ArtsWave offers an app for your smartphone to make it easy to find details on all the events.
Here are a few of the ArtsWave events (remember, check our complete post, referenced above, for a complete schedule):
Where:  Clovernook Center for the Blind
10:00 AM Linton Music Peanut Butter & Jam:  Toddlers & Grade Schooler
11:30 AM American Heartstrings
Noon  Illuminated Soul Recent Artwork by Wanda Owens for the entire family
Where:  Fairfield Community Arts Center
11:00 AM Bacchanal Steel Drum Band Island Journey for the entire family
Noon  Bubble Artist  for the entire family
12:45 PM World Music Workshop  for the entire family
Where:  UC Clermont College
10:00 AM Into the Woods for Grade School, Teenager & Adult
11:15 AM Origami Meets the Price is Right!  for the entire family
Noon  Recreational Drumming for the entire family
Where:  Wyoming Fine Arts Center
9:15 AM  Musik Kids with Miss Mary for Toddlers
11:00 AM Art School Open House   or the entire family
1:00 PM Wyoming Fine Arts Center Orchestra and  Entire Family | Wyoming Fine Arts Center CCM Suzuki Violin Program Showcase
2:00 PM Flying Cloud Academy of Vintage Dance for the entire family
7:00 PM Cincinnati Contra Dancers  for the entire family
Where:  Cincinnati Art Museum
Noon, 2:00  Madcap Puppets: When You Wish Upon a Fish Toddlers, Grade School
11:00 AM &1:00 PM Peter Pan and the Isle of Myth  for the entire family
Other events outside of the ArtsWave's Macy Sampler Weekend for Saturday are:
Join the naturalist and head out on an adventure to discover the sounds and creatures of the night at 6:00pm in Winton Woods (Winton Center) for a Nocturnal Adventure Hike .
Kids are invited to come to Kids Can Cook Too! at Whole Foods Market  10:00 AM – 10:45 PM in The Cafe.  This event is FREE!  Experience a FUN adventure and explore GREAT food and GOOD nutrition.  Join us this Saturday to celebrate Valentine's Day. Registration is required.  Please register by calling (513)981-0794 or email cinregistration@wholefoods.com
You won't want to miss ManaTots at the Blue Manatee Saturdays in February (Feb 2, 9, 16 and 25) at 9:30am.  This free program is for children up to age 4.  Join others for stories, songs and fun!
Do your kids need a practice run before taking the Kaplan ACT?  Bring a #2 pencil and a calculator to the Boone County Main Library (1786 Burlington Pike, Burlington) on Saturday 10:00am-2:00pm for a practice exam.  Results of the test and a follow-up strategy session will be given ten days later, on February 19 at 6:30 p.m. Register by calling 859-342-BOOK (2665).
Do you and your child love the book series "39 Clues"?  You won't want to miss a book signing by Peter Lerangis this Saturday at 4:00pm at the Blue Manatee Children's Bookstore and Decafe.  Peter will sign The Colossus Rises and discuss his new middle-grade novel,  as well as his additions to the popular "39 Clues" series.  This is a free event.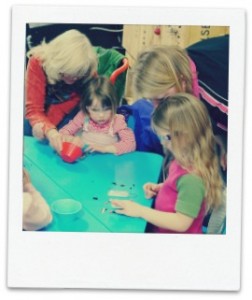 Don't miss the chance to create art in Brazee Street Studios glass art story time this Saturday, 1:30-2:15pm.  This month, "A Penguin Story" by Antoinette Portis, will be read.  Then your young artist will create a pair of standing penguins of their own. Story followed by a fused glass art activity for your budding artist. Students will use safe glass components to create two fused glass penguins inspired by the story.
12:00-1:00pm, 1:30-2:30pm, and 3:00pm-4:00pm at Brazee Street Studios students will design and create two blown glass hearts using two different techniques. One for you, and one for your loved one! Students will experience basic glass blowing techniques while working alongside our glass blowing instructors. Make+Bake: Glass Blowing sessions are accelerated hands-on courses designed for beginners.
Like to be outside on a cold crisp winter day?  Try the Mitchell Maple Sugaring Hike  at 1:00pm in Mitchell Memorial Forest (Wood Duck Trail).  This sweet tradition marks the beginning of spring for many. Take a nature walk through the sugar bush and learn all about how maple syrup is produced. This event is free.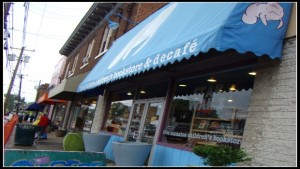 If you'd rather keep warm and cozy inside, join Miss Kelli and to make My Fuzzy Valentine, a needle-felted Valentine, for a loved one.
This eventis for children ages 8 and up on Sunday 1:00pm-2:00pm at the Blue Manatee.  The cost is $16 and you must register at Blue Manatee or by calling (513) 731-2665. Space is limited. Registration required.
If you'd rather make
Valentines From Recycled Paper 
be sure to attend this program at Woodland Mound Nature Center 1:00pm – 3:00pm Come and learn the steps to recycle old newspaper and scrap paper into Valentines for a loved one. This event is free.
All Weekend
We've listed several of the programs offered by our Hamilton County Parks, but check out their calendar for the weekend to see lots more.  There are other hikes, nature programs and even an over 18 Mystery Dinner that may be a great date night activity for Saturday night.
Calling all teenage bead makers!  Saturday 1:00-4:00pm and Sunday 1:00-2:00pm.  Your budding teen glass artist will learn the basics of glass bead making, participating in an art form with nearly 30,000 years of history. In this weekend workshop, students will learn how to create round beads, square beads, and dot beads as they build comfort and control on the torch. Ages 11 and up, no experience necessary.  Call Brazee Street Studios for details.