Winter is one of my favorite seasons, but right around this time of year my family starts to get a bit of cabin fever.  Spring is just out of reach, and we're all fidgety from being stuck inside during the cold & dreary months.  Lucky for us (and for your family) there's quite a list of things to do around town this weekend.  In fact, this weekend is a Macy's Arts Sampler Weekend, so there's even more fun <FREE> stuff to do around town than usual this weekend!  Let's all find some fun stuff to do this weekend and GET OUT OF THE HOUSE!!!
Friday ::
Bockfest Parade & Festival :: This is one of Cincinnati's most unique festivals, celebrating beer, spring & the heritage of Over the Rhine.  The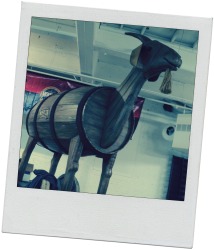 festival kicks off with a Parade on Friday and lasts all weekend long with music, food, brewery tours, and of course bock beer.  My husband and I go each year with friends as a "date night" so if you need a date night and love to celebrate the brewing heritage of our city, come on down!  I have also seen many families at this event as well, enjoying the German music & cuisine.
Boone County Library :: Madcap Puppets will be presenting a twisted tale of Cinderella at 7pm on Friday at the Main Library in Boone County.  Free and fun for all ages!  1786 Burlington Pike, Burlington, 859-342-BOOK (2665)
First Friday Shop Bellevue :: There's a little bit of everything in Bellevue for this event.  This month's theme is "National Pig Day"…should be interesting!  Read more about it in this post about Shop Bellevue for First Fridays by Michelle.
Saturday ::
ArtsWave Macy's Arts Sampler Weekend

~ We are excited to share with you details for ArtsWave Macy's Sampler Weekends  which kick off this Saturday!   This listing in our weekly "What's Up This Weekend" post is just a small fraction of all the events happening. Learn more and get the schedule on our Macy's Arts Sampler Weekend post.  Macy's Arts Sampler, presented by ArtsWave, celebrates the creative things —theater, dance, museums, music, and festivals — happening in large and small ways throughout our region.  And remember, ArtsWave offers an app for your smartphone to make it easy to find details on all the events!
Here are a few of the ArtsWave events (remember, check our complete post, referenced above, for a complete schedule):
School for Creative and Performing Arts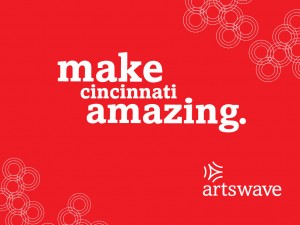 108 West Central Parkway |Cincinnati, OH
(513) 363-8000
2:00 – 4:00 PM Make Your Own Stage Blood!, A Day of Circus, Entire Family and Hero Design Company Mask-Making
2:15 PM CCM Prepratory Dance Department Entire Family
3:00 PM The Art of Stage Fight Choreography Entire Family
Music Hall
1241 Elm Street, |Cincinnati, OH
(513) 744-3344
1:00 PM Heroes and Villians: An action packed concert Entire Family featuring Cincinnati Symphony Orchestra, Cincinnati Ballet, May Festival and Cincinnati Shakespeare Company & Cincinnati Opera
Oxford Community Arts Center
10 South College Avenue |Oxford, OH
(513) 524-8506
2:00 PM Origami Meets the Price is Right! Entire Family
3:30 PM Celtic & International folk music performance Entire Family
Other events outside of the ArtsWave's Macy Sampler Weekend for Saturday are:
ManaTots ~ Stories, songs and fun at 9:30am.  For children up to age four (FREE!)
Dr. Seuss' Birthday Story Time ~ Saturday at 11:30am, FREE and perfect for all ages.  Come celebrate the birthday of the great Dr. Seuss with silliness, stories and singing!
AND….Zak Morgan: live at blue manatee! On Saturday from 2-3pm (FREE) Show description: Grammy-nominee Zak Morgan will appear at blue manatee to sing of beasts, treats, bullfrogs, and blooms! Bring your voice and dancing shoes for this free, family-friendly concert!
Brazee Street Studios :: Kids + Me Kilncarved Shamrock Plate ~ Saturday at 1:30 pm.  Class description : Celebrate St. Patrick's Day by creating a shamrock plate using the process of kilncarving in this introductory level class. Cut your design out of fiber paper and fire the glass on top to leave the impression of your design on the underside of your 6″ glass plate.
Cincinnati Museum Center ::  Learning Through Play Cincinnati Museum Center will be hosting its Learning Through Play Conference Saturday and Bluegrass For Babies representatives will be answering parents' questions about raising healthy kids through gardening, nutrition, healthy cleaning products, etc.  See the Cincinnati Museum Center Website for all of the details about this event.
Miami Whitewater Forest Visitors Center :: Amazing Amphibians ~ Saturday at 1pm.  Description: Slimy, creepy and cool are just a few words that are used to describe these interesting creatures. Meet some of our native amphibians up close to see if they live up to their wild reputations. Free
Middleton/Mills Park :: Pioneer Arts Day at Sugar Camp!  Saturday, beginning at 11am.  Pioneer Arts activities will include weaving, corn husk doll making, a visit in a blacksmith shop, and cast iron campfire cooking demos!
How to get there: Middleton-Mills Park is easy to find! From I-275, take Exit 79 (Covington/Taylor Mill). Go south on KY 16 about 7 miles. Turn left on Mills Road. You'll see the park on the right before you get to the entrance. Turn right as you enter the park and follow signs to Sugar Camp.  Call (859) 525-PLAY (7529) for more details.
Whole Foods Market (Rookwood) :: Kids can cook too!  Bring your kids in to explore cooking, learn about nutrition and prepare their own Banana Cream Tarts.  Saturday at 10am.  Registration is required: please register by calling 513.981.0794 or email cinregistration@wholefoods.com
Sunday ::
Broadhope Art Collective :: Earring Making Workshop on Sunday from 12-1:30.  Make your own beautiful beaded earrings.  You will create 2 or 3 pairs of earrings in this class ($20).  Contact the Broadhope Art Collective for more details.
All Weekend Long ::
Cincinnati Art Museum :: Check out the Cincinnati Art Museum's Events Calendar for fun stuff to do all weekend long, including tours and art for the wee ones to do on their own!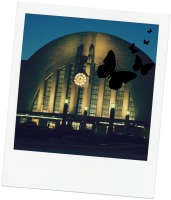 Kenton County Public Library :: All three branches of the Kenton County Library have fun stuff going on this weekend!  Storytimes, playart, Reading with Ronald McDonald, LEGO fun and much much more!  Check out their website for the full schedule!
Cincinnati Museum Center OMNIMAX ::  Have you seen Flight of the Butterflies yet?  This would be a perfect weekend to take the whole family!  It's a fabulous show.  Read all about it in this review on Family Friendly Cincinnati.
So what will your family be doing this weekend?